Welcome to this week's edition of I wwwant that! In case you're not familiar, I wwwant that! is a weekly post and exercise in restraint. It's in this space that I share desirable internet wares that please the eye and break the (my) bank. Damn you, internet awesome!
This first one is a beautiful example of Twitter's power to suggest. All Ted said was "Succulent wreath at flora grubb garden" and I knew I'd love whatever the attached YFrog picture was. If you're not familiar, Flora Grubb Gardens is a lovely and remarkable plant store (and Ritual Roasters coffee outpost) in Bayview. They've got a wide variety of indoor and outdoor plants, palm trees and a great stock of covetable home/garden accessories. She also specializes in succulent and air plant arrangements (here are two great examples). Just look at that thing. Gorgeous!
My next desire, which is totally affordable and completely within my typical budget window (should I not be under-employed), highlights the iPhone's ability to take a great picture (see Ted's succulent wreath pic above). Photojojo, sellers of playful and awesome photo gadgets and mega-producers of DIY  ideas, released some new items in their shop last week. One caught my eye as something that would be incredibly fun to have around. iPhone camera filters! Go starburst, wide angle or kaleidoscope. Dude, rad.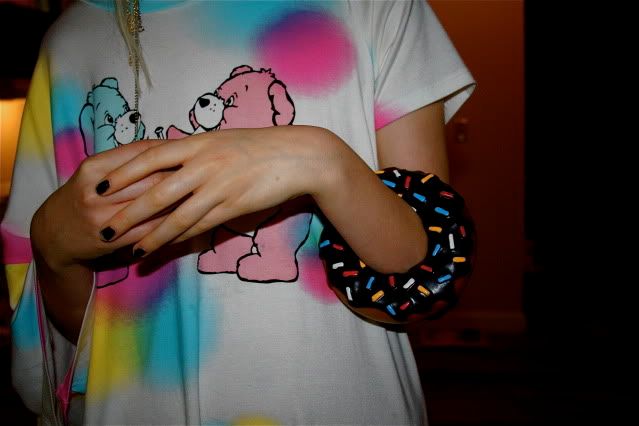 You can file this one in the category "relieved I never have to think about purchasing" because DAMN what the hell would I do with a DOUGHNUT BRACELET??! My inner Fat Kid is totally drooling over this perfect accessory. Upon investigation (ok so just the blog comments), it appears that the bracelet is by Jeremy Scott from his positively endearing fashion collection called Food Fight. It features bacon inspired jackets, geometric french fry prints, cookie necklaces, hamburger sweaters, a pizza dress and a whole lotta fun. Go check it out (main< collections < food fight).
There is nothing more beautiful than a perfectly assembled bicycle. Sure, sometimes they can look like a cream puff*, but when done correctly, can make you feel all tingly. Here's an example: the dudes from Death Spray Custom created two such clean and efficiently decorated bikes. Of COURSE DudeCraft was all up in their business and posted about it. Check out Death Spray's work on Figo Vengeance & El Capitane. (Isn't that photo a bit perverse? I'll let you figure out what I think it looks like.)
You want this bag Mills Canvas Flight bag. So do I. And so does Design Crush.
Free-ish stuff:
Who loves classical art? I DO! Who loves graffiti? Eh. Who loves them together? Oh me me! A genius contest on Worth1000.com has people scrambling to put graffiti in old school art and the effect is fricken fantastic. Go yonder and view over here. What I wouldn't give for a print in our foyer! Hat tip to Frank of Postsecret for the tip!
San Francisco is home to a man-made island restaurant. Dudes, this is sweet. This revelation is no thanks to The Bold Italic, a newish online publication that aims to be " an experiment in local discovery". If that's their purpose, they're hitting the mark and have been consistently posting amazing SF stories and locations.
While you're at it, just go look at these fantastic reused tartan print stools on Remodelista and made by mc & co.
(*jk jk Cap, you good sport! Your new Mission Bicycle bike sure is purty.)